August 26th, 2023

Back in June at the amazing and fun
Surfer Joe Festival 2023
we met up with Berlin based Aloha Shirt maker Micky Oye. We soon found out while sippin' Italian Zombie cocktails that El Ray needed a boost of Micky Oye mojo on stage and the Oye business needed some El Ray mojo back. So here we are in a sweet co-op with a bunch of totally freakin' good looking Aloha shirts. We'll wear these on stage and of course in private all the time. Check out the
Micky Oye Aloha Shirt online shop here
. Handmade shirts made in Germany.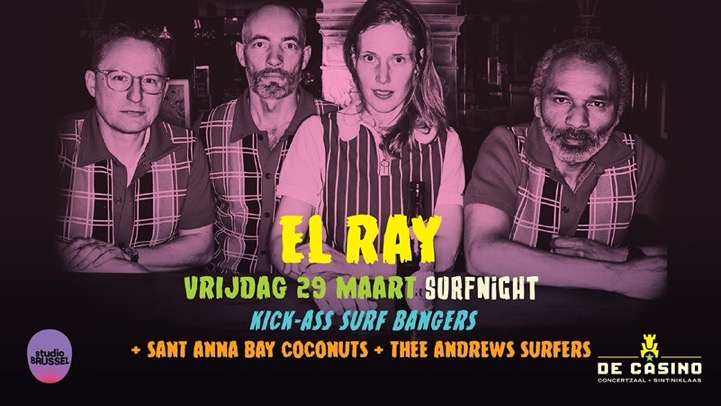 March 1st, 2023

On the road again in 10 days time in DK, March 10/11. Aalborg and Kolding.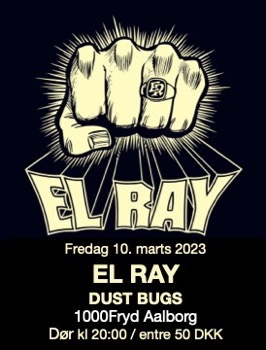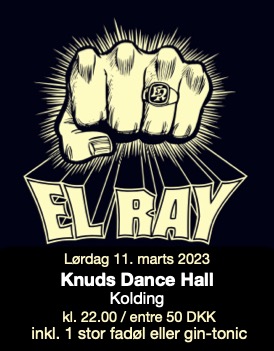 January 14th, 2023

We'll be back at this years
Surfer Joe Summer Festival
on the main stage Friday June 23 at 23:00.


August 17th, 2022

20 years ago today we had our first release party on August 17th, 2002 in Baden Baden record store which was located in central Copenhagen.
Our debut album 'Shoot From The Hip' contained remastered songs from our first demo-EP 'El Frank Francesco D'Angelo' that we did the year before plus newly recorded songs. All played live in no time in a Copenhagen rehearsal room/studio with Marc Alexander producing and releasing on his Alternate Records label. It was all damn good fun and very interesting times because the album led us to go and play shows many places in Europe the following years meeting crazy beautiful people and hearing great bands we had no clue of existed.
2002 line-up was: El Fuerte - drums, El Doc'torro - bass, El Firetone - guitar, El Twang - guitar
Listen to Shoot From The Hip on Bandcamp


June 17th, 2022

We'll play this years
Foxtail Festival
in Copenhagen. It all goes down on August 20th.


February 4th, 2022

We'll be back in sunny Belgium in April to meet and greet with long time pals from Unwanted Tattoo! On Sunday April 24th you'll find us on stage at this years
Textival
(gig at 16:15).


April 24, 2022

Textival (gig at 16:15)
Kortrijk, Belgium


April 24, 2022

de Vrijheid (gig at 11:00 am)
Sint Denijs, Belgium


April 23, 2022

w/ Unwanted Tattoo
Jan van Gent, Gent, Belgium


April 22, 2022

w/ Faroutski + Unwanted Tattoo
Private Party, Tiegem, Belgium


August 6th, 2021
September 18th, 2021! The 6th Surf Bash Festival in Leipzig, Germany. This year with a massive greasy instro'n'surf Danish fingerprint from El Ray and The Tremolo Beer Gut. The Leonites (DE) will join and shouldn't be missed! You'll find El Ray on stage on Saturday 18th at 21.30.
Get your tickets and info from here.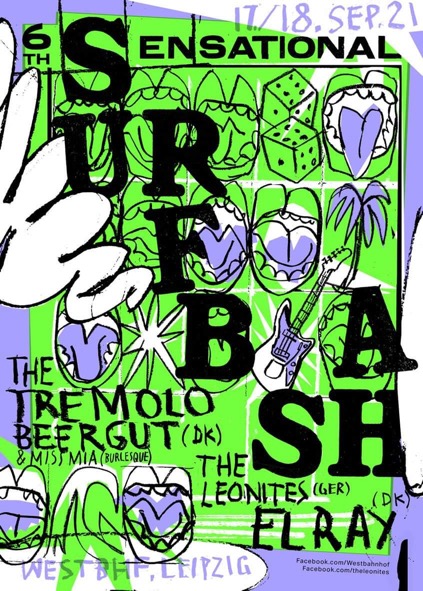 May 16th, 2021
Two live dates added and, damn you covid-19, hopefully these dates won't be cancelled as 4-5 planned shows did in 2020.

First show is up on June 12th where we'll play the Burning Hearts Festival on Fyn. We expect a good crowd of drunk and happy MC-campers.

On September 18th we'll go to Leipzig and play the 6th Sensational Surfbash. Last year the festival was cancelled, This year we plan to double up on the energy and get those Germans up and dancing.