El Ray - News
February 18, 2016.
Aloha Rays!
We told you all many months back, that we did not retire. And dearest surfdudes and dudettes, that's the truth! Right there and as simple as that. In March 2015, El Fuerte got a concussion playing soccer. He is still in good recovery but has to take some more time to keep the good vibes and healing going. Due to the accident, El Ray has been rehearsing and not played any liveshows for a while. Actually, today marks one year since we played our last liveshow at Loppen with Los Straitjackets.
Time flies and the cancelled shows now needs to be played. We want to, you want to and everybody needs to! Therefore El Ray has got some news. El Fuerte will continue his recovery and keep writing new tunes with El Ray, and for playing liveshows El Ray has the honour to introduce Denmarks most cool female drummer Mei Ray aka La Meitronome. She is well known from the band The Felines. A band that knows how to write a rock'n'roll garage tune.
We can't wait to play live again, and hope to see you all out there. Check out the upcoming dates
April 8, 2016
The Monkey Club
Radar, Aarhus
April 15, 2016
Private gig
Copenhagen
April 23, 2016
w/The Tremolo Beer Gut
Pitstop, Kolding
May 6, 2016
w/The Razorblades
KB18, Copenhagen
10-4! See you soon.
June 16, 2015.
What's up guys'n'girls?!
Yesterday we got a mail from Jurgen, Germany, asking "So.. what's up - did you retire or huh?!". Good question there, Mr. Jurgen! Of course the answer is a screaming "NOOOO", we did NOT retire, but what's going on then?! Well, El Fuerte is an excellent soccer player, fast as a lion - stings like a bee, but some months back he got a concussion while heading and scoring a goal! Therefore he had to "shhh lay low" for a while. He is in speedy recovery as we write - and we hope to have him 100% back soon.
Another and much more positive El-Happening is that Eye Candy had...yes, the El Ray Baby no. 13! It's a beautiful girl, and we believe the next generation of El Ray bassists are cooking! The TIKI-Union given maternity leave is flying and soon the whole El Ray crew will be back together.
El Twang and El Firetone has been writing new stuff, so a new album will be released in the future!
If you just can't wait to hear El Firetone's voice, tune in to the worlds best Instrumental Radio station, North Sea Surfradio www.northseasurfradio.org this weekend, where Firetone will be guest-DJ-ing live from this years Surfer Joe's Summer Festival! www.surferjoemusic.com/festival/
October 14, 2014.
Thanks a whole bunch to you Copenhagen Rays, that came out for our release party at Brass Monkey. It started out pretty rough due to a lot of rain but nothing could stop Thalys-Tiki Art to make the coolest Tiki-Totem for the bar. Wow! The day turned into a killer night and the new stage at Brass Monkey is absolutely rockin' good.
Soon it's time for the west flanders folks in Belgium to get their dose of the Evil Mermaid tones. This time around playing all the shows with our good beloved friends from Unwanted Tattoo. Can't wait!!
But before that the action is in Copenhagen this Saturday. Get your 90's identity out of the closet and join the wild ride. See ya'!
August 24, 2014.
Copenhagen release party coming up on September 13th. A whole bunch of stuff going on that day - surf, tiki, cocktails and goood vibes!
July 21, 2014.
It's out today! The new El Ray album - "The Evil Mermaid". Limited 300 copies, 10", purple vinyl. On Green Cookie Records that just puts out some amazing stuff at the moment. We're very proud to be on board. Yes Sir!
So where and how can you buy this beautiful thing?
Well, if you want vinyl plus download go here:
Vinyl? Yes!
If you want the digital album go here:
Digital please!
We really hope you dig this. We're very proud of this release and the cover is once again done by the great Mr. Primer!
Also -> We had an excellent time in Livorno this year playing the Surfer Joe 2014 Festival. This festival just gets bigger and better every year and keeps providing the best surf and instro music in the world for the crowd. Great gig and one to remember! We even had JonPaul Balak joining us on stage for SpaceCar 2001 (check out the last pic).
Thanks to Lorenzo Surfer Joe for making this world a better place to live in all things surf and instro! Here are some pics done by Tommy Antonini.
June 1, 2014.
As you read this update the new El Ray album - "The Evil Mermaid" - containing 7 brand new tracks is being printed somewhere in Greece.
We hope the test pressing will be accepted so we (fingers crossed) can bring the vinyls to this years Surfer Joe's Summer Festival 2014 in Livorno, Italy. We play Friday, June 20th, on the Tiki Stage at 22.30.
The album is released on the fine Greek label Green Cookie Records where our friends from the best instro bands such as Insect Surfers, Speedball JR, Los Venturas, The Phantom Four and Lorenzo Surfer Joe also are in the rooster! How cool can you be?!
We also played two excellent concerts in April and May. One sent us back in time to Brass Monkey, Denmark's most cool and classy (in that good way, you know) TIKI-Bar! We played in a packed venue filled with cocktails and dresses. We love to play at Brass Monkey and will be right back. Thanks to everyone!
The other show went down some days later right across the street from Brass Monkey. We played at the shop Motorouis at their 5 year birthday bash and had the time of our lives - once again!
Amazingly many homecooked burgers, bikes and strong beer from tap - a night you want to remember, but really can not.
April 22, 2014.
Next up!
March 3, 2014.
Up next!
Februay 19, 2014.
And the winner is....EL RAY. What a fine night. So damn cool to play and party with The Good The Bad and what an excellent 'Don King' Carsten Holm was.
Here's a little something from the Surf Battle 2014 event. El Firetones amp broke down in the middle of Spacecar 2001. But so what? Enjoy!
February 12, 2014.
In two days....
February 14th in Aalborg, Denmark.
Surf Battle 2014.
Two stages, two bands.
El Ray vs. The Good The Bad.
One song by each band at the time.
Ping-Pong. Ding-Dong. You're In, You're Out!
P6 Beat national radio DJ Carsten Holm will be Don King for one night.
This is going to be pure kick ass fun! Get your tickets NOW!
January 7, 2014.
We've recently been confirmed for the 2014 lineup at the Surfer Joe Summer Festival. We played the festival in 2010 and it was absolutely fantastic. We'll return with some sort of fresh EP in our suitcases when the calendar turns to June. We did record 6 songs in November and they are just waiting to get mixed and mastered. Also we're talking to a cool label at the moment. 2014 is looking very good so far!
Enjoy this promo for the 2014 Surfer Joe Festival.
September 12, 2013.
The Endless Summer Festival and the gigs before and after it was fantastic.
Here's some action from festival.
July 26, 2013.
We've got five gigs coming up pretty soon. Four in Belgium and one in Copenhagen.The gigs in Belgium will include sharing stages with super great acts such as Los Venturas, The Phantom Four and the O'Haras. We have played quite a lot of gigs in Belgium and can't wait to go back! The gig on October 4th in Copenhagen will be with the fabulous The Razorblades who always puts on an amazing and high energy filled show.
Check out this promo for The Endless Summer Festival in August!
March 31, 2013.
Live dates added. More info on these gigs will follow.
January 9, 2013.
The local Copenhagen newspaper Noerrebro/Nordvest bladet takes a big dive this week and recommends the readers to get splashed in reverb this Friday on Rust. We agree.
January 6th, 2013.
Happy New Year! If you already didn't see the news on Facebook it's good you're here. Gig coming up in Copenhagen on Friday (January 11th) on Rust with the fab The Felines and the one and only Et Tumason. It's going to be one of those nights. You know, the bloody good ones. See you on Friday!
November 24th, 2012.
Once again it's been a little while since our last update on these pages. So what's going on?
Well, since our last update we found out that we get airplay on US National Public Radio, which is mighty cool!
The mailman dropped by last week with the brand new "Continental Magazine no. 20!! And with a superb cd included!
Featuring your very own El Ray with a never before released tune plus 19 other great instro bands! Get this magazine and cd direct from
DoubleCrown Records.
And oh, let's not forget to mention a great gig and night two weeks ago. We tried out two brand new tunes which currently runs under the titles 'BigTikiDude' and 'Three Kinds Of Meat' - both songs have great vibes and melody and will eventually end up on a new El Ray record...! You can see a bunch of great photos from the night here done by the
very talented photographer Henrik Moberg Jessen.


September 3th, 2012.
Earlier we announced a "El Ray DJ-set" on September 9th - but it seems the good vibes have hit the shores in Denmark all the way from from California!! Anyway, the complaints from the neighbours are gone, and we have been "upgraded" to play a full show the same day. And not even a full show my friends... No No, TWO FULL SHOWS!!
So, on Sunday September 9th from 6pm - 8pm (a little break in the middle - go get a beer) El Ray are going to release the Twangy and Reverby sound for whole 2 hours! So far 1000000 have been served! After the concert, at 8 pm, the spot will be transformed into a Drive-In theater and will be showing the everlasting hymne to the 1950s "Rebel Without A Cause".
August 24th, 2012.
Sunday September 9th El Ray are gonna show their DJ skills at the Golden Days Festival! It's all going down at "Stranden" @ Carlsberg in Copenhagen from 6-8 pm. Get in your car and tune into FM 101,8 or borrow a radio on scene, and get your Surf Classics "on the go". At 8 pm the spot will be transferred into a Drive-In theater and will be showing the everlasting hymne to the 1950s "Rebel Without A Cause".
It's 100 dkr pr car, stuffed or 40 dkr by foot. See you there?.....We think so!
August 19th, 2012.
We're back in good ol' Copenhagen after one hell of a tour! We went to the mekka of surf in California and took a mighty deep dive into the surfin' instro subculture. They have got nothing but cool and sweet people over there and it seemed like the whole lot loved the El Ray songbook and in our usual manners we took great care to love them all right back! So many people to thank. You know who you are.
We feel totally refuelled after this and that always brings new songs to the plate. Stay tuned for this and in the meantime go to our Facebook page for pics and further info. Heck, why don't you just join our Facebook group while you are at it.
July 26th, 2012.
We're are one week away from our US departure and all set to go by now. Updates and stuff will be on our Facebook page. Click on the logo to the left!
June 6, 2012.
May 26th, 2012.
El Ray & the Kodachrome Wipeout! Check out our latest music video from the Chasing Ray album. Track is Twang's Am. Shot on the last remaining double-8 kodachrome reels before Kodak killed off the worlds first color film. Kodachrome, a film so legendary that Paul Simon wrote a song about it, and so important that the U.S. State Parks and Services named a Park after it. And for good reason. Not alone was it one of the very first films to capture color in 1935, it was also the only one of its kind, a color film that has the grain structure of a black and white film. This video is a visual tribute to a film stock that changed the scene.
Done by
Alex Archimbaud
.
March 27, 2012.
We're so ready for August!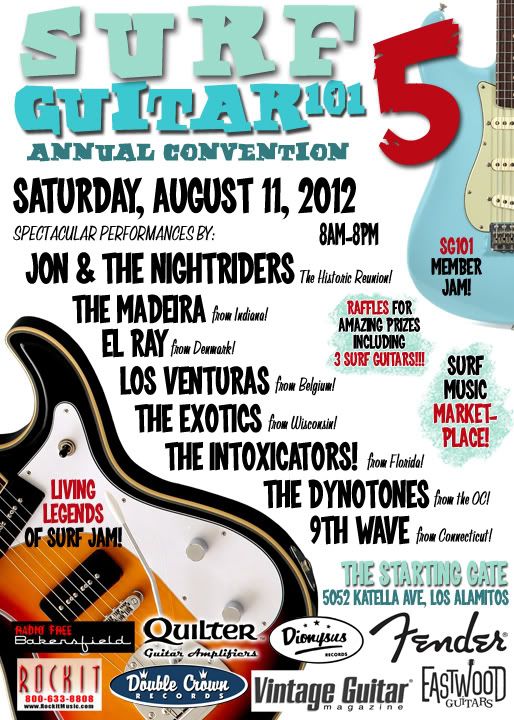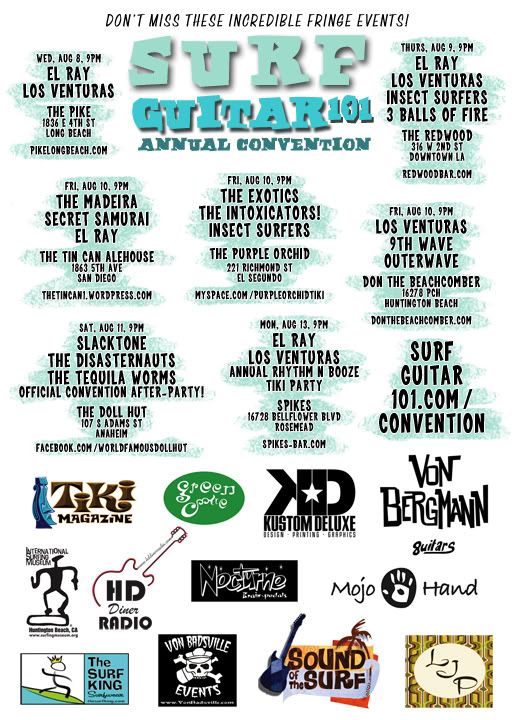 February 25, 2012.
Aloha Rays. Do we have some great news for Ya'll?! It seems El Ray are known on the other side of that little stream they call "The Atlantic Ocean", in Gods own country where the sharkes are bigger, and an El Ray normally are something you use to shoot at aliens with. We are very proud and stoked to announce that El Ray are going to play at the
SurfGuitar101 Convention 2012
El Ray has been picked as the one of two European bands and are really really excited! The Convention is taking place Saturday, Aug. 11th in Los Alamitos, CA. During the stay in USA we are going to play shows in San Diego, Sacramento, Los Angeles and San Francisco - and off course going to surfboardin' school! We are hoping to see you all there! As always, more info will follow with exact time and place - and remember El Ray drink genuine american beer! El Ray HQ...OUT
January 24, 2012.
The gig last Friday at KB18 was perfect in every way. Great crowd and three surf'n'instro bands doing their stuff the way their stuff should be done! More news very soon which are going to be very interesting...
December 30, 2011.
The lack of updates on this site is embarassing but life and things has become very facebooky, right? Anyways, your favorite El Ray band is doing a-ok and just added a new gig to the live-section. New action going on January 20th at KB18 in Copenhagen. It's going to be an all surf night with The Palermo Surf Experience and the new youngsters from Danghera.
We're proud to announce and be on
this new compilation. Buy it!
September 19, 2011.
We're currently working on new songs! In fact we just finished a new one yesterday that will probably please lovers of the earlier El Ray records. Fast, melodic and bumpy for your pleasure only. We've got a few gigs coming up this fall and while the live action may seem a tad slow we're baby booming like there's no tomorrow. That'll be El Ray - the next generation - for you!
Our good friends The Razorblades are coming to Copenhagen!
Slowmotion rodeo madness! Video by Tor Fruergaard. Music by El Ray.
Flying Saucer Theme from Tor Fruergaard on Vimeo.
July 5, 2011.
Check out this El Ray interview from German 'Dynamite Magazine' in the recent issue. It is, however, in German.
Click here to read the interview!
May 1, 2011.
This September it's 50 years ago since Dick Dale's Let's Go Trippin was released. A bunch of classic surf'n'instro hits/bands came right after the rest is beautiful history. A compilation is being planned for release later this year as a tribute to that. We've recorded a brand new take on The Pyramid's Penetration - done it in the El Ray style - and it's going to be on that compilation!
On Friday, May 6th, DJ Firetone and DJ Twang will be spinning cool hits at Copenhagen's Brass Monkey bar. In other words prepare for sleazy cocktails and a bunch of Russian surf'n'instro tunes as well tons of other cool hits.
February 24, 2011.
Hi! Super gig yesterday in Loppen and a great night indeed! Check out YouTube for videos. We'll do it all again tomorrow at the Brass Monkey bar.
January 5, 2011.
Happy New Year everyone! This year is quite special as 2011 marks our 10th Anniversary. How about that? It has been a superb ride so far and we're not finished yet. Lot's of cool stuff coming up in 2011 and we'll keep you posted right here. The video we worked on in December is going to be a-okay-super-duper-fantastico. As soon as Alexandre Archimbaud has finished it you'll be the first to see it - we looked pretty good on that snowy Sunday in December.
We'll catch the first wave this year on February 23th where we play at Loppen, Copenhagen. Hope to see a good bunch of people there. Cheers!
December 15, 2010.
This Sunday (the 19th), we are going to record the coolest "live concert shoot" at Brass Monkey in Copenhagen. We need 8-10 Rockabilly dressed, excellent looking folks as audience. If you wanna be immortalized in our video please send us a mail and we'll let you in on all the secrets and fun. Part of the video will be filmed in the first colour format ever, Kodachrome film. It'll also be the last as you can't get that kind of film developed after December 30th anymore - or that's at least what the director Alexandre Archimbaud has told us. Ol' School film making!
November 18, 2010.
Hellloooo! We're still coming down from four excellent gigs in Belgium last week. It was a fantastisc trip and don't get too surprised when you see all the hip youngsters wearing El Ray gear in your local Flanders region neighborhood. El Ray digs Belgium! Cheers!
October 28, 2010.
Belgium mini tour coming up November 10-14!! We'll start off on November 10th playing a gig at our booker Barney's Birthday Bash.
October 11, 2010.
Next gig coming up this Thurday on
RUST
. We have a huge guestlist so just shoot La Chiquilla a mail if you want to get in for FREE -> chiquilla@elray.dk. See you there. Cheers!
And ohhh, by the way. Check out this guy.
September 27, 2010.
It's Mixtape time!
Now you're at it why not check out these two fantastic reviews (in Danish) of Chasing Ray. Go to
Politiken's review
or
Gaffa's review
.
Next gig coming up on October 14th at Rust in Copenhagen.
September 12, 2010.August 31, 2010.
It's out and what a superb kick-ass release party. Thanks for coming El Friends!
Drawing on inspiration from legendary Link Ray and Dick Dale, mixed with class acts like Pixies, Bob Hund and Sonic Youth - and with a profound love for the garage scene, El Ray is more than music, it's deadly fun. 'Chasing Ray' is the band's tribute to former bass player extraordinaire, "El Kid'o", who died tragically of cancer at the age of 27. With new bass player La Chiquilla in place, El Ray is once again ready to get in character and play bikinis and trunks of every cool cat in town.
August 22, 2010.
We're only one week away from the release of 'Chasing Ray'! Release Party next Saturday, August 28th, down at the
Brass Monkey Bar
. Copenhagen's coolest rum bar. The fun starts at 21.00 and we'll play a special set around 21.30 with some very cool surprises mixed in the El Ray cocktail.
Listen to the full album now -
go here!
August 11, 2010.
Don't forget our gig tomorrow night at The Gun Club in Copenhagen. We'll play at 22.30. See you there!
July 17, 2010.
July 15, 2010.
We have just been confirmed for the
North Sea Surf Festival
on September 4th in Holland. More on this new cool festival later.
July 4, 2010.
Videos from our Surfer Joe show. Done by
Mr. Unsteady Freddie!
June 30, 2010.
Hey there! If you here because you saw us play at last weekend's Surfer Joe Festival well thanks for visiting! We had an amazing time in Livorno and everything just rocked. The music, the people, the sun, the drinks, Lorenzo, Niki etc. etc. Good times! Here's a few pics from our show Saturday night.
June 22, 2010.
We are getting ready to surf and rumble on the shores of Livorno.
SurferJoe Festival 2010
is coming up and don't forget our gig on Saturday night!
The new album is currently being printed and due for release on August 30th. It'll be out on 180 gram vinyl, Cd, iTunes etc. Check out a few songs from the album!
May 11, 2010.
We now have a final master of the forthcoming album - 'Chasing Ray'! Copenhagen release party in August but more on that later on. Next gig just confirmed. We're playing at Lades on June 5th and we plan to play some of the new songs from the album. It's gonna be superlicious!
April 9, 2010.
Good El Ray news all over place! We finished recording the new album last week. It's produced by Swedish meatball Carl Granberg and he's also going to mix the album during the next couple of weeks. We've been very thrilled working with Carl so far and he has without doubt brought something fresh and new to the sound and feel of El Ray. We really hope you'll like it because we love it!
The album 'Chasing Ray' will be released just prior to our Saturday night gig at the Surfer Joe Festival in Livorno on June 26th. Before that we'll play a couple of private secret gigs to get the waves crashing in.
Speaking of waves or, ermmm,
Oklahoma waves
...new endorsement guitar hits the band and long time Mosrite lover and player El Twang. Check out the
Press Release here
.
March 16th, 2010.
Hey! Look below. Pics from last month's recording session in Sweden where we laid down the basic tracks for 12 songs in 4 days. We'll get back into the studio in April and do some more recording. With a little luck this gem is ready and due around June/July. That's all you'll get for now.
February 17th, 2010.
We're currently featured on
SPIN EARTH
and that's mighty cool! This comes just right before this weekend's album recording session in Sweden - which we'll tell you all about after it's done. You can also check out the video below. Done by Alex Archimbaud.
January 24th, 2010.
YESYESYES! We're going to Sweden, February 19 - 22, to record the new awesome album! It has been a while and for the first time in Ray history - we're actually gonna record tunes we haven't played at live shows - as in EVER before! Already fans are telling us how all this reminds them of Christmas... Thanks!
As if that was not enough, we are just confirmed to play at the
SurferJoe Festival 2010
, Livorno, Italy, June 24 - 27. We will play Saturday night, main stage, right before Los Straitjackets! And also Sunday!
The 2010 is already the best ever!
December 19th, 2009.
Grand Opening of the NEW Copenhagen TIKI CLUB! See you Tonight!!
Finally. Welcome to the new webpage! It's pretty simple but solid. Check out the different links.
Next gig coming up on December 5th in Lund, Sweden. We are playing the
Retro Blaster Xmas Bash
in Mejeriet. Don't miss out on this. Rumor says the tickets are going fast.
We are working pretty hard these days with the new batch of songs that'll end up on the new El Ray album. We plan to record late January next year.